We do our job, so you can do yours.
The Hood Boss Team takes pride in providing outstanding service as the elite hood and exhaust cleaning specialist servicing Texas, Oklahoma, and Louisiana. Our goal is to render your exhaust hood system free from any grease accumulation to reduce fire hazard, in compliance with the guideline set out by the NFPA 96.
We are currently trusted to service the kitchen exhaust cleaning needs of over 1000 clients in the DFW Area and North Texas and serve 100's of more clients in Waco, Austin, and San Antonio.
Request a Quote!
Click Quote Now to request a quote for all services you are interested in.
We work hand in hand with the Business Owners, Exec Chefs, Managers, Fire Marshalls, and Health Inspectors to ensure all fire safety and health standards are met. Our Technicians are well trained and committed to maintaining the highest industry standards. We would like the opportunity to inspect your grease exhaust systems and give you a bid for a thorough and proper cleaning of your system as well as putting a grease management program together for you.
Customer Service
On Time
Three Point Scheduling

Two Week Out Scheduling
Day of Service Confirmation
Morning After Quality Assurance

Key Access Program
28 Years Combined Kitchen Exhaust Cleaning
28 Years Combined Restaurant Management
Compliance
Hood System Cleaning Frequency
Baffle Filter Guidelines
Protection of Facility Rooftop
Protection of Equipment
Knowledgeable in All NFPA 96 Standards
EPA Waste Water Regulations
Documentation
Hood System Diagram
Detailed Photo Documentation of each Cleaning
Photo Documentation of Deficiencies after each cleaning
Electronic Invoicing
Customer Portal

Work Order Status
Open Invoices
Secure Payment
When choosing Hood Boss for your Kitchen exhaust cleaning, you will receive a personalized Grease Management Program. We will perform a complimentary system inspection which will include a diagram of your duct system as well as pictures and provide you a detailed report of any deficiencies we identify. We will then determine the proper frequency of cleaning as recommend by NFPA 96. We guarantee the Hood Boss Bare Metal Standard when performing your kitchen exhaust cleaning.
Scheduling
Two Week Advance in Scheduling
Email Confirmation
Day of Reminder
On Time Arrival
Arrive within the Defined 30-minute Window
Using Key Access when Available
Kitchen Exhaust Cleaning
Pre-cleaning Pictures
Deficiency Documentation
NFPA 96 Compliant Cleaning
Detailed Clean-up of Work Area
Walk through with Manger on Duty
Post-cleaning Pictures
Follow Up
Next Day Quality Assurance Call
Web Portal Access to Your Location's Before and After Deficiency Photos
Electronic Invoicing
Secure Online Payment Portal
Next Day Access to Service Photos
Upon arrival, Hood Boss Technicians document grease accumulation between cleanings with before pictures of your entire system. This allows us to work with you in monitoring whether your systems cleaning frequency is accurate, determine if any modifications are needed, and we can adjust your Grease Management Program accordingly. Within twenty-four hours of you scheduled service you will be emailed a link to access your before and after pictures on TheHoodBoss.com.
Client Portal for Account Maintenance
As part of your Grease Management Program you are given access to invoices and work orders through our Hood Boss Client portal. The client portal gives you the ability to view, check status, and pay invoices securely online.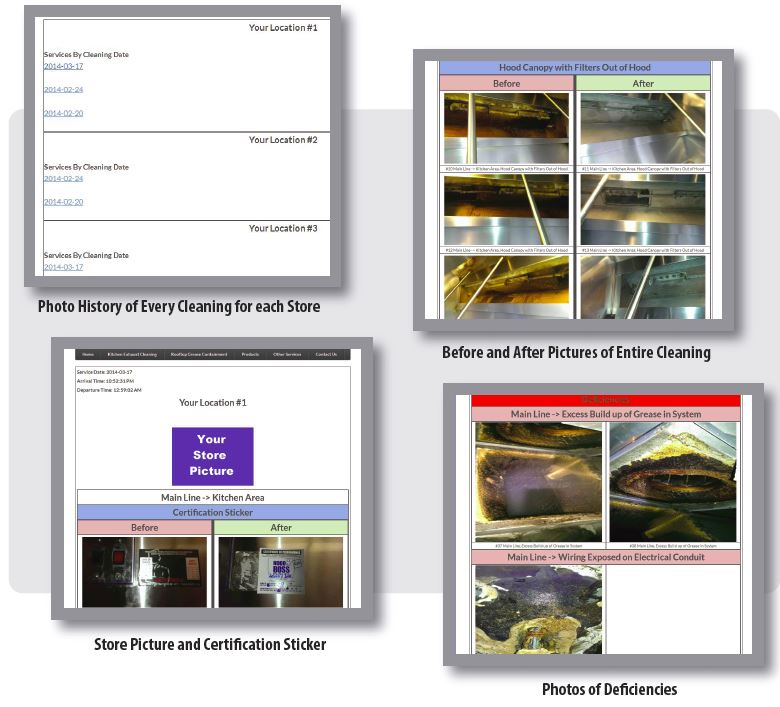 At Hood Boss we believe that keeping you informed with any potential hazards within your system is a key part of our Grease Management System. During the exhaust cleaning service, Hood Boss technicians document any deficiency or hazard that may exist with pictures. These deficiency pictures are included with the Before & After pictures following the cleaning.
Common Items Found During Inspection Report
Common Deficiencies
Excessive Grease Build up in Exhaust System
Excessive Grease Build up in Baffle Filters
Hinge Kit Needed on Rooftop Exhaust Fan
Inaccessible Areas within Exhaust System
Excessive Grease Build up on Roof Top
How We Can Help
Help Determine Accurate Cleaning Frequency
Provide Commercial Degreaser to Maintain Baffle Filters between Hood Boss Cleanings
Order & Install Hinge Kit Best Fitted for Your Fan
Order & Install Necessary Panels for Proper Cleaning
Order & Install the Right Roof Top Protection System for You
We then notify you of those deficiencies or hazards during our follow-up call the morning after service has been performed.
Our quotes reflect the quality of our service personnel and the work that we do. What you are getting by partnering with Hood Boss is value and an excellent job at a fair price. The inspection and bid are complimentary, and we guarantee our work 100%.
How We Get Started
Onsite Complimentary Initial Inspection Report
Duct Diagram of Your System
Existing Deficiencies
Picture Documentation of Your Complete System
Grease Management System

Cleaning Frequency Based on Grease Accumulation
Pricing for Service
Detailed Plan on How to Address Deficiencies or Liabilities That Exist within Your System